1
May 9, 2016 by lovenellie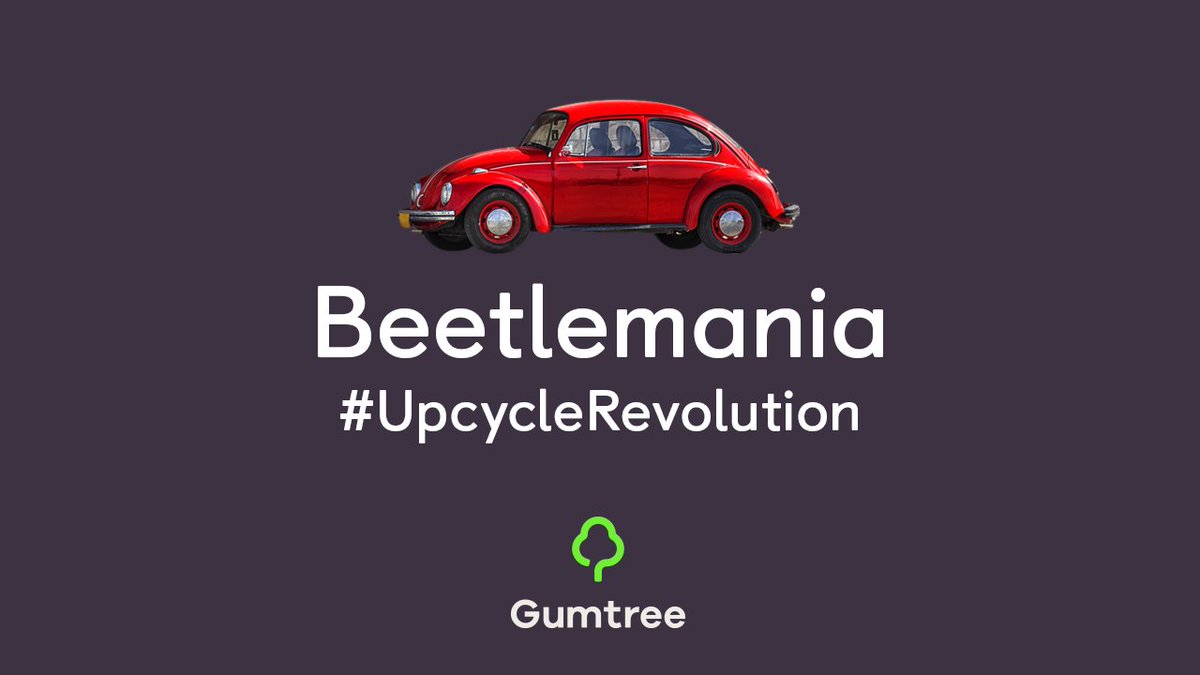 Last weekend I popped up to London to support two great friends who were running the marathon for their chosen charities, they were both amazing but I know my limitations and realise that unless they allow me to be pushed around in a upcyled shopping trolley it's probably not something that I am going to be able to add to my list of lifetime achievements.
However when my' Whats App' pings and it's Mr Max McMurdo asking me if I fancy getting involved on the next Gumtree Upcycle challenge, 6 days to turn and old VW Beetle from trash (panic not Beetle lovers, this Beetle was totally rusted underneath and beyond saving otherwise) to as many upcycled things as we can, all to be sold to raise funds for  The Butterfly Tree Charity . That's my kind of Marathon!
So in a workshop near Bedford next door to Tiny Tempah who was busy trying to outdo our workshop tunes the 'U – Team' ( upcycling team) as we became known, assembled.
NB, Not all the team got the check shirt memo !
Led by Max Mc Murdo of Reestore, upycling extraordinaire and Chief tea drinker , Jez Armstrong of Trong Upcycling, Stu Abbot of  Stu- Art Aviation Furniture, Taile Mole of The Urban Mole and myself, the team came together, angle grinders at the ready. The Beetle was carefully taken apart being sure to keep safe some of the most iconic parts of the car so that we could upcycle them into new and amazing things.
It's important to tell you a little bit about The Butterfly TreeChairty so you can understand why we were all so keen to help. THE BUTTERFLY TREE CHARITY SUPPORTS RURAL COMMUNITIES IN ZAMBIA DECIMATED BY THE HIV AND AIDS PANDEMIC – PROVIDING SAFE WATER, FEEDING PROGRAMS, IMPROVED HEALTH AND EDUCATION FACILITIES, MALARIA PREVENTION, SUSTAINABLE COMMUNITY PROJECTS AND AN ORPHAN SUPPORT PROGRAM.
The money that we raise from this venture will be used to build a new classroom for the children at one of the local schools, Jane Kaye-Bailey of the Charity came to visit us in the workshop and her passion for what she does was infectious,  by the time she left we all wanted to actually go to Zambia with her and help build the classroom.
Jez and Max did the heavy-duty cutting of the beetle and all of our creative minds then went into overdrive, every piece that we took off the car we could imagine being made into hundreds of things. We were going mad sketching things, buzzing with ideas but as always with creativity there are the sensible and boring things that we had to take into account. Firstly we only had 6 days to do it all and secondly the cost element, we needed to not spend a fortune on any of the components of the things we made as this would mean less money for the charity.Importantly not forgetting 'Health and Safety' too, all of the team are perfectionists, upcycling is our passion and there were going to be NO 'bodgejobs' on this project.
We worked all hours, only stopping to order pizza or flick the kettle on and as the days went on I think we actually amazed ourselves with the array of quality things we were creating. All of the pieces are real one offs, designed to be different and designed to celebrate the iconic VW Beetle design. This video shows just some of the fun we had, please note it has been sped up significantly and is not just the result of a too much caffeine in the workshop situation!!
On the Saturday we were joined by a few other bloggers for the day, a great opportunity to show then what we had been up to and to enlist their help. Massive thanks to Natalie Holden  from Little ones Blog who helped me with the drawers of the dressing table and kept be giggling all afternoon and Craig Lowe of Little Loweys blog who knows his way around a can of chalk paint for sure.  Other great collaborations came from Sally Warner who made a corset from the Beetle Bonnet and  The Purple Finch who produced an amazing piece of Beetle Art work framed in a headlight.It was lovely to meet them all and great for them to be able to help us spread the word and help raise as much as we can for this great cause.
We are all really proud of what we achieved, I just love working with these guys. Max has so much energy and passion being in his workshop is a bit addictive, even when your tired with a long drive home ahead of you, you find yourself wanting to stay and do more. All the team are advocates for upcycling, looking at things around us constantly with fresh eyes and seeing how we can change them into things more relevant for what we need or want now. Gumtree is leading the way with us offering a platform for people to buy something affordable and with our expert tips and advice there is no excuse for not being able to turn it into something amazing.
So if you can support us and buy one of our iconic #beetlemania pieces then please do, they can all be seen here.. BEETLEMANIA each one designed and made beautifully and total one offs, I guarantee they will be a real talking point in your home and supporting a great cause too. Ant Anstead of Channel 4's 'For the love of Cars' has bought the speedo clock and Tom Wookie Ford from Tom Gear commissioned us to make a laptop table and we would like to thank them for their support.
Hopefully  our adventures also inspire you to have a go and try upcycling, there are thousands of things on Gumtree all waiting for you so why not have a go. There are lots of upcycling tips in the Gumtree Upcycling Hub so check in and get inspired or come and spend the day with me on one of my Love Nellie Upcyling Days and I promise you will go home a mini expert having had lots of fun too.
A few pictures of the fun we had and some of the things we made… and the pizza !!!
Join us again soon for more adventures with Gumtree #upcyclerevolution
Thanks all and have a great day.
Lynne x